A First Tee Student Feature: Proof that the First Tee Program is Making a Difference
March 26, 2019
Please join us on Monday, April 15, as we celebrate and support the future of golf with the First Tee. The PAGCS partnership with the First Tee is only possible with your help and support. Click here for full details, registration, and ways to support.
Before we get to the feature story below, did you know: The First Tee of Greater Philadelphia [TFTOGP] is growing every year. Of special note is the First Tee's National School Program here in the region. "The program helps elementary students learn about the basic skills of golf through safe and fun activities. By also incorporating The First Tee Nine Core Values and Nine Healthy Habits, we're putting students on course to a healthy and active lifestyle." [Courtesy of the First Tee website: www.thefirsttee.org]
Also of note is TFTOGP's expanding satellite locations. Programs are available at Applecross Country Club, Abington Club, Bensalem Township Country Club, City Line Sports Center, FDR Golf Course, Warminster Township Five Ponds Golf Club, Flourtown Country Club, John F Byrne Golf Club, Rossi Golf & Sport Center, Valley View Golf, as well as Walnut Lane Golf Club.
Below is just one highlight that proves the program makes a difference in students' lives.
Student Experience: Saving the Golf Team — and Other Ways I Learned to Lead
by Victoria Wajda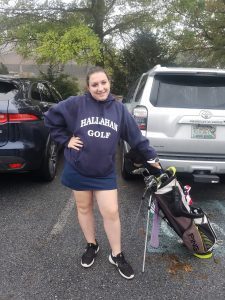 If you're thinking about playing golf for the first time, here's what you need to know:
It doesn't matter if you're good or not. You just have to be ready to get frustrated. That's not a bad thing, because golf will teach you to persevere — so when you do succeed, you get a huge boost of confidence.
That sense of accomplishment is one of the things I love most about golf. So when I found out my team at John W. Hallahan Catholic High School for Girls was getting cancelled due to low membership, I didn't give up. Instead, I took action.
We had three members, but we needed six. I started attending school open houses to share my love of golf. I encouraged girl after girl to think about playing. After months of conversations, my efforts paid off. We doubled our membership — and saved the team! And three short years later, we're setting literal records.
In October, our team — now with eight members — won the Philadelphia Catholic League Girls' Golf Championship. The year before, I won first place individually in the Philadelphia Scholastic Athletic Association District XII Golf Championship.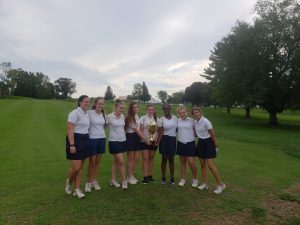 It was our school's first team championship title in 22 years — and the first time a Hallahan student won that title in the history of the school. I'll never forget how the whole school went wild.
That's the kind of place Hallahan is. Our community is small enough that everyone gets a chance to speak up and take on new challenges. When you succeed, people see it — and celebrate. No good deed goes unnoticed.
Having that support and sisterhood has made me a stronger leader. I always feel comfortable voicing my opinion and pushing for change — whether as a school ambassador, a participant in my forensics class (my favorite!), the captain of the golf team, or as a member of SpeakUp!, a program where students can discuss tough topics with adults and one another.
I'm excited to use those skills next year when I start college. I haven't decided on a school yet, but I am grateful to have scholarships to my top picks — which, of course, all have golf teams.
Part of me is looking forward to a new adventure. Another part of me is nervous. But if I've learned anything, it's that even if things get difficult, I can persevere — and win big.
________________________________________
Victoria Wajda is currently a senior at John W. Hallahan Catholic Girls' High School located in Philadelphia. This article was originally posted at https://www.aopcatholicschools.org/exploreaops/student-experience-saving-the-golf-team-and-other-ways-i-learned-to-lead/?fbclid=IwAR0jGqsXIfYXVbMjt217FI0NtvJVH3mUw6D9IW0Pc9VKrA104i51RKdoz1M as well as on TFTOGP Facebook page: https://www.facebook.com/TheFirstTeePhilly/