"Winning Golf" hosts Applecross
September 24, 2019
Watch the Episode live or check YouTube soon:
Winning Golf #11
NBC Sports Philadelphia
Tuesday, September 24 – 11:00pm (may shift due to Phillies)
Saturday, September 28 – 3:00pm
NBC Sports Philadelphia+
Friday, September 27 – 8:30pm
The PAGCS episode of "Winning Golf" began airing recently on Comcastsports/NBC Sport. The show was filmed on 9/10/19.
Winning Golf TV hosted a very special group of contestants representing the Philadelphia Association of Golf Course Superintendents. Our exciting day was held at the beautiful Applecross C.C. and was sponsored by four first-class sponsors; Turf Equipment & Supply Company, Pocono Turf Supply, Noble Turf and Arader.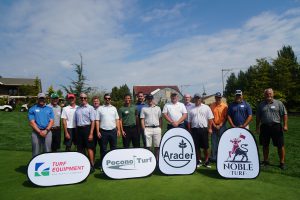 Our day was hosted by Doug Rae who serves as the Head Superintendent at Applecross C.C. as well as the VP of the PAGCS. The weather was beautiful, the course conditions perfect, the camaraderie was amazing and the Winning Golf highlights were plentiful!
Find out who hits the pressure shots and takes home the Winning Golf Championship trophy this week beginning this Sunday night in prime time at 7:00 pm. on NBC Sports!