PA Publishes BMP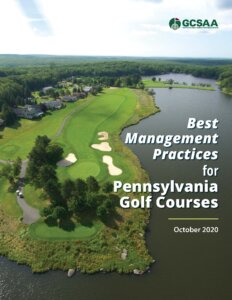 Pennsylvania's new BMP development project, two years in the making, reached its critical final stages with the official publication of the statewide BMP document [Click Here]. The state's latest Best Management Practices project takes its impetus from the GCSAA initiative to provide BMPs for all 50 states. The original PA state BMP was created in the mid-2000s.
The updated PA BMP also features an easy-to-use tool kit for every golf course in the state to create its own Facility BMP [click here]. This Facility BMP tool was developed through a collaborative effort involving key Pennsylvania industry leaders, GCSAA, and many others in the industry. The PAGCS is excited to roll this Facility BMP feature out to our members and add another tool for advocacy.
The final step will be a state website to house and promote the PA Best Management Practices.
The publication of the Pennsylvania Best Management Practices would not have been possible without the help, support, and leadership of the following:
BMP superintendent committee members who volunteered their time to this project include:
• Kyle Woodfield, Superintendent, Whispering Woods Golf Club
• Jason Batchelor, Superintendent, Moon Golf Club
• Andy Bates, Superintendent, Hickory Heights Golf Club
• Josh Saunders, Superintendent, Lancaster Country Club
• Mike Mulhare, Superintendent, White Manor Country Club
• Derrick Wozniak, Superintendent, Radley Run Country Club
• Doug Rae, Superintendent, Applecross Country Club
• Mike Hartley, Irrigation Specialist, Turf Equipment and Supply
• Jeff Green, Superintendent, Carlisle Barracks Golf Course
• Chris Martin, Superintendent, Crossgates Golf Course
• Brian Ahrens, Superintendent, Reading Golf Course
• Chris Passenti, Superintendent, Lords Valley Country Club
• Rick Pagett, Superintendent, Penn State Golf Courses
• Dave Williams, CGCS, Superintendent, Mountain View Country Club
• David Wood, Golf Course Superintendent, Oxbow Country Club
We would also like to thank the Penn State scientists who contributed their expertise in
reviewing drafts of this document, including:
• Michael Fidanza, Ph.D., Professor of Plant and Soil Science
• John Kaminski, Ph.D. Professor, Turfgrass Science
• Peter Landschoot, Ph.D. Professor, Department of Plant Science
• Benjamin McGraw, Ph.D., Associate Professor, Turfgrass Science
• Andrew McNitt, Ph.D., Professor of Soil Science/Turfgrass
Additional thanks to Kristen Liebsch, Executive Director of the Philadelphia Association of
Golf Course Superintendents; Kevin Doyle, Field Staff-Northeast Region Golf Course
Superintendents Association of America; Chase Rogan, formerly of the Golf Course
Superintendents Association of America; and Ken Benoit, CGCS, Eco Turf Consulting.