Association honors long serving Board Member Doug Rae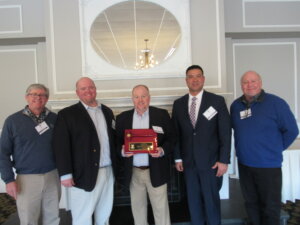 Doug Rae, middle, flanked by some of PAGCS' Past Presidents, during his tribute ceremony. Pictured left to right are Jeff Edwards {'06-'07}, Derrick Wozniak {'18-'19}, Doug Rae {'20-'21}, Jon Urbanski {'14-'15}, and Tony Gustaitis {'96-'97}
On Wednesday, Jan. 26, at the PAGCS Winter Education event, newly elected President Greg D'Antonio paid tribute to Doug Rae's nearly two decades of service to the PAGCS.
Doug was elected to the Board in November of 2003, persuaded to take the leap by then Past President Don Brown. Doug's continuous service included multiple terms as Director, many years as Website Committee Chairman, four years as Treasurer, two as VP, and finally leading the Association through the pandemic as President. He continues to serve as President Emeritus through 2023, chairing the nominating and scholarship committees.
Among Doug's many achievements are successful launches and continued modernization of the PAGCS website. Leading the charge, his passion and tech savvy approaches have kept the Association moving in the right direction year after year.
Rare is there an Association Board member who can say he served during the tenures of eight presidents: Warren Savini, Jeff Edwards, Sean Remington, John Gosselin, Jay Parisien, Jon Urbanski, Rob Nolek, Derrick Wozniak.
Doug's career includes a Penn State education, stops at Whitford, French Creek [as the grow in Superintendent circa 2002], Downingtown CC, finally landing at Applecross Country Club in Spring of 2010. Personally, Doug was recently remarried, loves to fish, and has a son who is a sophomore in high school.
As I said in the letter that went out, Doug navigated us through a pandemic … As a result of Doug's leadership, our financials as an Association have never been stronger and we continue to be extremely innovative. The First Green program continues to expand, he introduced new partnerships both for member career growth and public relations. He even won Winning Golf on NBCS! When he steps off the Board at the end of 2023, he leaves us in great hands. On behalf of everyone in the room and all members of the Association and golfers in Philadelphia, thank you, Doug. –Greg D'Antonio