Meet Your Board: Mike Kachurak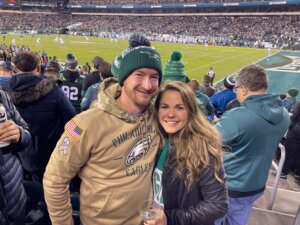 WHO: Mike Kachurak, Industry Representative to the Board
CAREER:  Mike is currently an ISA Certified Arborist and Client Representative for Shreiner Tree Care.  He enjoys meeting with people each day, both residential and commercial, to discuss enhancing the trees and landscapes on their properties.
Mike began working on a golf course at a young age to get free golf and range time. This summer job sparked an interest in turf management, and he eventually attended Delaware Valley University. After graduating with a degree in Agronomy and Plant Science, Mike landed a full-time job at Merion Golf Club.
After his time at Merion, Mike changed gears and worked in golf course construction before joining the team at Shreiner Tree Care.
PERSONAL:  Mike's roots stem from Mountain Top, a town in Northeast PA. He is married to Alexandria Kachurak, his wife of seven years. They have a welsh terrier named Macy. In Mike's free time, he enjoys golf, hunting, and cycling.
Note: Shreiner Tree Care is one of the Presenting Partners for the Golf Championship at KSG&CC—CLICK HERE to register