The Future of the Industry Needs Us!
The PAGCS is a proud partner of First Tee — Greater Philadelphia, building the future of the industry, the game, and our world. Please consider a donation if you can.
Subject: 2023 Auction for Game Changers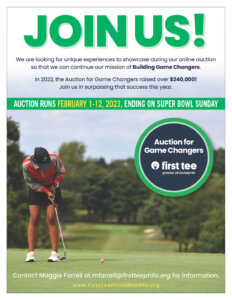 First Tee – Greater Philadelphia is a youth development organization that teaches over 40,000 kids of all privileges essential life skills using the game of golf. As one of the major fundraising sources for our chapter, First Tee conducts our Auction for Game Changers, which will run from February 1 through February 12, 2023. This auction has taken off nationally over the last two years and raises over $200,000. This success allows the chapter to provide ALL programs to our young people at no cost. At First Tee, we are excited that we can help grow the game of golf by introducing the sport to new players from non-traditional backgrounds.
Would you consider donating a foursome, item, or experience to support our cause? Your donation will assist us in making the community a better place. We are lucky to have so many who give back to make all that we do possible. Our kids, parents, Board of Directors, and staff thank you in advance for your generosity. If you have any questions, please let us know.
Sincerely,
William Hyndman, V Executive Director
First Tee – Greater Philadelphia whyndman@firstteephila.org
First Tee – Greater Philadelphia is a tax exempt organization as described in Section 501(c)(3) of the Internal Revenue Code; EIN number 23-2088969