Jerred Golden Acceptance Speech: 5/8/2023, Eb Steiniger Award
Let me start by saying it's such an honor to be presented with the Eb Steiniger Award. For those that have not had the pleasure of meeting Eb, he was truly a treasure. His 96 years of life was nothing short of miraculous. He served on every board or council our industry had to offer, instrumental in the invention of dozens of pieces of equipment as well as the development of several improved varieties of grasses. Even though he was born in Germany in 1905 he took a leave of absence to serve our country in World War II. He was a mentor to countless young men that went on to fill the growing need for trained professionals to manage the ever-expanding golf industry. During the winter months Eb would carpool with professors from Rutgers and Penn State and travel the country to lecture at state conventions about advancements in turfgrass science. And he did all that while developing Pine Valley into the world class facility it is today.
This is but a short list of his many accomplishments, but Eb was so much more than a résumé. It was Eb's humanity and genuine warmth towards his colleagues that set him apart. He remembered your name even after meeting you once. He wanted to hear all about what you were doing. Even at 90 when his eyesight was failing him, one of his many friends would drive him to meetings so he could keep up with the latest and lend support and advice to guys at clubs large and small.
It was in this spirit, that our Association in 1990, decided to honor the man that so exemplified and embodied what a true professional was, by establishing the Eb Steiniger Award. In the years that followed, we have celebrated captains of industry, academia, journalism and, of course, golf superintendents. The list is a virtual "who's who" of the golf and turf industry!
I am humbled to be named on the same list as so many distinguished past recipients. I have always felt honored to serve our industry in whatever capacity I could, but in the end, I feel that it was me that benefited the most. I have met the sharpest people and learned so must through their friendships. Doors have opened for me, that I never knew were there. Sharing time on industry boards with people with all sorts of skills was like getting a free master's class. I know that your time is finite, and you are being pulled in so many different directions with the demands of the modern golf business, but the rewards of participation can pay dividends in many ways.
Let me close by saying I am truly honored and humbled to receive the Eb Steiniger Award. It's a privilege to be recognized for my contributions to the PAGCS and the turf industry we serve. I'd like to thank the Board for their recognition with this gesture and my family for supporting me through the years to allow me the time to give back.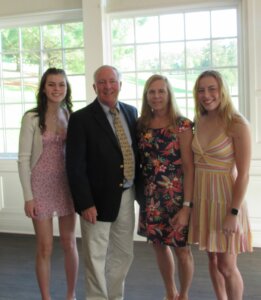 Jerred and family