Monday, Jun 6, 2022
Scholarship Outing and Benefit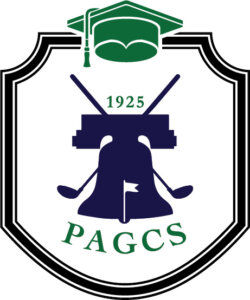 2022 Scholarship Benefit, presented in partnership with Pocono Turf Supply and George E. Ley Company/Eastern Irrigation
The PAGCS was established in 1925 to serve as a community of professionals who enhance and advance the game of golf. Our scholarship program enables the Association to recognize and award rising golf turf students who are the future of the industry. Thank you for your support!
Bring Cash if you want to participate in the 50-50, Pot of Gold or Raffle basket Contests!
Shotgun: 11 a.m.
Thank our Tee Sponsor–Genesis Turfgrass
[continental breakfast available 9:30 a.m.]
Format: Scramble
Be sure to join in the Pot of Gold contest!
[Sign up when you register or bring cash day of]
Reception Buffet: 3:30 p.m.
Thank our Sponsor–Harrells
Don't miss out on the ice cream bar, sponsored by Lebanon Turf!
Pricing [full-day registrations includes continental breakfast, on course snacks with canned beverages {including IPAs, Domestic and Imported beers, Hard Seltzers–Mixed Drinks available for cash purchase}, post golf buffet reception with inclusive open bar, and an ice cream bar]:
Full day: $125pp
Full day with Signage: $250pp
Twosome with Signage: $375
Foursome with Signage: $600
A la carte options:
Signage: $150
Beverage Station: $300
50-50 ticket: $10
Pot of Gold: $20
Raffle Basket Tickets: $20 per 10 tickets
Post Golf Reception Only: $60
Add to Google Calendar