Association Awards Highest Honor
On Monday, May 8, during the PAGCS Member-Member Trophy Tournament at Coatesville Country Club, the Association proudly presented its highest honor, the Eb Steiniger Award, to Jerred Golden.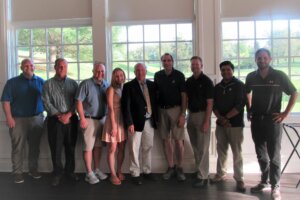 [Pictured: Jerred Golden, center, flanked by current and former team members at the ceremony on May 8, Coatesville Country Club]
About the Award
Born in Germany in 1905, Eberhard Steiniger went on to create a 96-year legacy of innovation, mentorship, and service to the industry and the U.S. Serving on every board or council the industry had to offer, he became instrumental in the invention of dozens of pieces of equipment and improved varieties of grasses—all while developing Pine Valley into the world class facility it is today. [History courtesy of Jerred Golden: CLICK HERE for Jerred's full acceptance speech]
In 1990, the PAGCS decided it was time to honor the legacy of Eb Steiniger by establishing this award in his name. Since then, the award has been presented to many captains of the industry, from professors to journalists, and, of course, golf course superintendents. Honorees are chosen by the Board of Directors, based on letters submitted to the Association's Nominating Committee. CLICK HERE for the full list of honorees.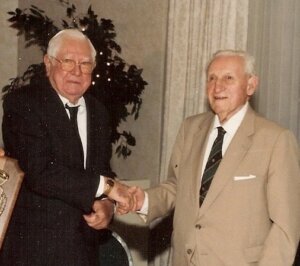 [Eberhard Steiniger, right, with award recipient Frank I. Shuman during the PAGCS 75th anniversary celebration]
About Jerred
Nominated for the Eb Steiniger award by two of his mentees, Steve Friedell and Rob Nolek, Jerred is no stranger to industry accolades and achievements. Jerred took the helm of the PAGCS during a period that ushered in real change in the industry. The early '90s were a time of transition for golf and for families.
After serving in additional leadership roles as Presidents of both Penn State Agricultural Council [1998-2000] then Pennsylvania Turfgrass Council [2003-2004], Jerred received the Dr. George Hamilton Distinguished Service Award from PTC in 2011. [CLICK HERE for an interview with Jerred in the Fall of 2011]
One career success that will forever be associated with Jerred is how he pioneered the use of effluent water on PA golf courses! Furthermore he initiated and developed the PA Turgrass Research Trust to fund a PSU endowment for graduate and undergraduate research.
Jerred graduated from the PSU two-year program in 1976, served briefly as an Assistant Superintendent before taking on the Directory of Grounds at Hershey's Mill Golf Club and has been a PAGCS member for over 4 decades.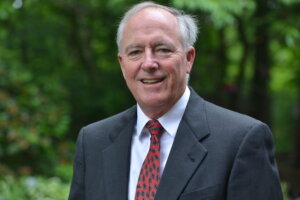 Quotes
"Jerred has always been a leader that fully supports and trusts the department heads that are under his supervision.  He allowed me and so many others to learn from our own mistakes, but also stressed accountability in our decision making. " –SF
Jerred's "coaching tree" is extensive with several clubs represented of past and present superintendents that he mentored at Hershey's Mill.  Deerwood Country Club, The Bedens Brook Club, Waynesborough Country Club, Cedarbrook Country Club, Rock Manor Golf Course, Radley Run Country Club, and North Hills Country Club are all linked to Jerred's network of superintendents.  Maybe even more impressive is that 4 individuals from this group have followed in his steps by also serving on the PAGCS, with three becoming board president.  –SF
Jerred taught me about family and how to focus on what truly matters and that being a Superintendent is just a part of our lives. Those traits he instilled upon me during that time became part of my constitution, and I think about them always when finding work/life balance. –-RN
For all he has done for the Philly Association, Penn State turf grass foundation and those he mentored, he truly exemplifies what the Eb Steiniger award represents. –RN